Michelle's Barbie Doll Pages

"Ethnic" dolls -- Asia and the Pacific Islands

Dolls (and fashions) representing people from the Philippine Islands in clothing derived from their days as a colony of Spain
-- Centennial Collection, made by Mattel Philippines in 1998

The Philippine Centennial Barbie Collection consists of 8 designs from the Formal Collection and 2 from the Casual Collection.

FORMAL COLLECTION
Sack Linen Gown
Green Floral Gown
Cream Gown
Violet Gown
Maroon Gown
Mustard Gown
Cream with Maroon Gown
Pink Gown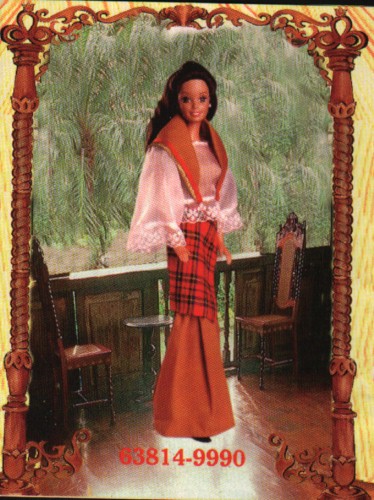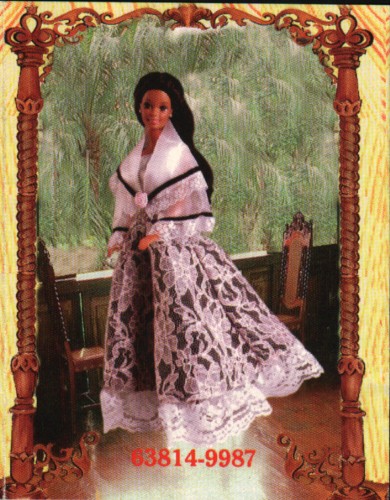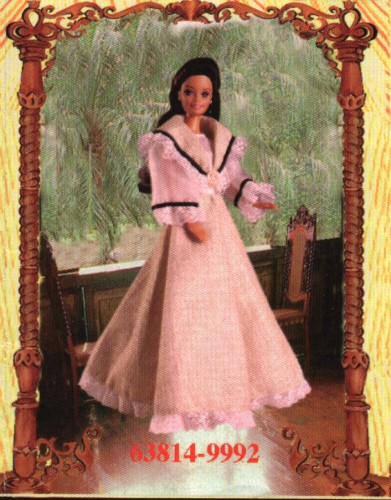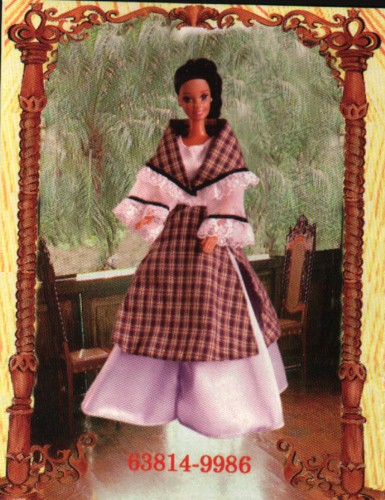 CASUAL COLLECTION
Green Cotton Gown
Cream & Blue Gown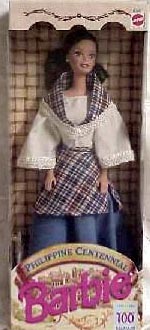 The box says:
"The Philippine Centennial marks the 100th year of the Philippines as a nation. It is a celebration of the emancipation of the Filipino from the tyranny of colonialism and his transformation into a citizen of an independent and proud nation.
The Philippine Independence was declared on June 12, 1898 with the ratification of a Philippine Constitution in January of the following year. These events gave the Philippines the distinction of having the first constitutional democracy in Asia.
The Centennial of Philippine Independence represents the history, struggle and solidarity of the Filipino People. It tells the story of the birth and growth of the Filipino race and serves as a reminder of the Filipino's moral duty to spread the inherent nobility, courage and wealth of his heritage."
The clothes of Filipina women are usually referred to as "Maria Clara". Maria Clara is actually a name of one of the characters in a novel written by a Filipino National Hero, Dr. Jose Rizal. His novels dealt with the hardships that the Filipinos faced during the Spanish Colonial Era.
For many people Maria Clara is the classic embodiment of what a Filipina woman should be. Maria Clara is a very beautiful Filipina who embodies the traditional Filipino values, such as respect for elders and being courteous to visitors, etc.
COSTUME DESIGN BY NICKY MARTINEZ


---
Asia and the Pacific Islands
India
China
Mulan (China)
Japan -- made by Mattel
Japan -- not made by Mattel
Korea
other Asian countries
Hawaii and Polynesia
The Philippine Islands -- in native dress -- various ethnic groups
The Philippine Islands -- in native dress -- Kebaya
The Philippine Islands -- in colonial dress -- Centennial collection
The Philippine Islands -- in colonial dress -- Santa Cruzan collection
Asian-Americans
---
Return to the amargosavalley.com Home Page
Return to my Barbie home page
Visit my other web pages, Agriculture in Amargosa Valley
---

This web page was made by Michelle DeLee, Amargosa Valley, Nevada, USA
michelle@amargosavalley.com
Last updated April 5, 2000