Michelle's Barbie Doll Pages

"Ethnic" Dolls -- AFRICA
(not including northern Africa)

Dolls (and fashions) representing people of African descent (African-Americans, Jamaicans, etc.)

---

Mattel -- Reproduction of 1967 Francie (black) -- 1998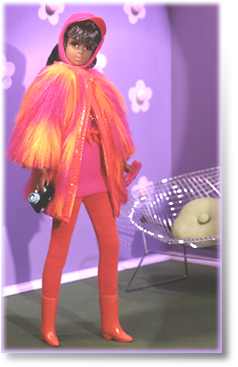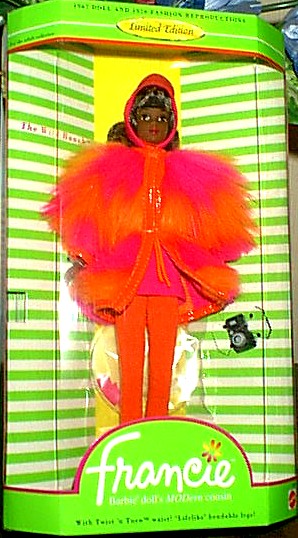 ---

Kenner -- Skye the Fashion-Action Doll -- 197?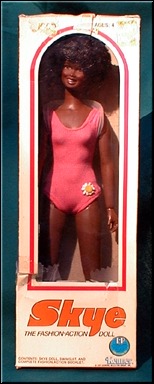 ---

Mattel -- Sun Jewel Barbie's friend Shani -- 1993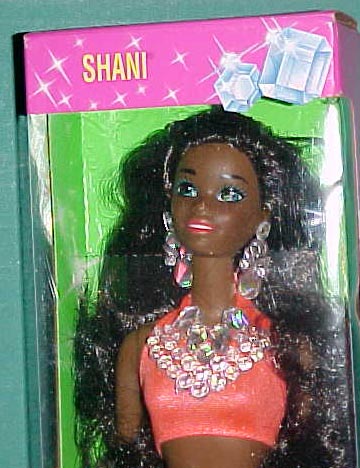 Mattel also made a separate line of dolls for Shani and her friends, that were not packaged in the traditional Barbie pink boxes and did not say Barbie anywhere on the box.
See my Shani line of dolls page. Also see my Shani head mold page.


---

JAMAICA
Mattel -- Dolls of the World -- Jamaican Barbie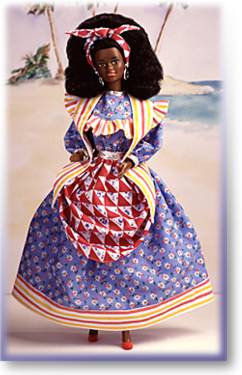 ---

More African and African-American dolls can be found on my other Barbie doll web pages:
Women of Valor
Fantasy
Mattel's Head Molds
---

Also take a look at THE EBONY WORLD OF BARBIE, created by CWash
---

Africa (not including northern Africa)
The continent of Africa
African-Americans and Jamaicans
Black Barbie
Christie doll
Nikki doll
Imani doll
Shani line of dolls
Asha line of dolls
Nichelle dolls
AA musicians and dancers
Celebrities – Brandy, Scary Spice
Celebrities – Diahann Carroll, Dorothy Dandridge, Diana Ross, etc.
Celebrities -- Men
Men (misc.)
---
Return to the amargosavalley.com Home Page
Return to my Barbie home page
Visit my other web pages, Agriculture in Amargosa Valley
---

This web page was made by Michelle DeLee, Amargosa Valley, Nevada, USA
michelle@amargosavalley.com
Last updated March 21, 2000